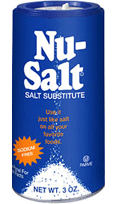 NuSalt Canisters | NuSalt Packets

Nu-Salt® Brand Salt Substitute - 50 Packets

Ingredients:
Potassium Chloride, contains less than 1% of Cream of Tartar, Silicon Dioxide, and Natural Flavor.

Nutrition Facts:
Serving Size 1 PKT (1 g)
Servings per container: 50



Amount per Serving

% Daily
Value*
Calories
0
Total fat
0g
0%
Sodium
0mg
0%
Potassium
530mg
15%
Total carb.
0g
0%
Protein
0g
0%



*Percent Daily Values are based on a 2000 calorie diet.

Not a significant source of calories from fat, saturated fat,sugars, cholesterol, dietary fiber, vitamin A, vitamin C, calcium and iron.

For normal healthy people. Persons having diabetes, heart or kidney disease, or receiving medical treatment should consult a physician before using a salt alternative or substitute.